About Mission Maids Cleaning Service
Mission Maids was established in 1987 with a goal to provide professional, affordable and secure residential cleaning services to the Los Angeles community. Mission Maids continues to be a family owned and operated business and because of our highly acclaimed cleaning, housekeeping, maid and janitorlal service, we have grown from one small office to three full-service locations.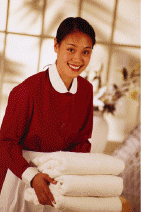 Mission Maids is one of the most reputable domestic referral agencies in Southern California. Our independent maids are self-employed professionals who manage their own clients. Each of our contracted housekeepers is carefully screened to ensure that we refer only quality and experienced housekeepers with spotless criminal and professional backgrounds. We contract with only the best career-minded housekeepers. You can be sure that any housekeepers we refer to you will be Mission Maids Certified.
Your Mission Maids Certified housekeeping team will arrive at your home with all the necessary cleaning supplies, training and equipment to clean your home. In addition you can be confident that all our cleaning procedures and materials are in compliance with OSHA regulations.
We will take time to address your concerns and refer only the maids that you can provide cleaning service that is tailored to suit your specific needs. We look forward to servicing the greater Los Angeles community for many years to come.
Get 20% Off
your first cleaning Now
Call (323) 957-0344 or fill this in:
10% Off
when you schedule weekly service!
Minimum weekly service commitment required.
Applies to normal weekly rates
Schedule Now


---
How do you get the best results from a housekeeping, maid, janitorial or cleaning service?